There are 4,760 two- and four-year colleges in America, according to the National Center for Education Statistics.  That doesn't even count certificate programs. And you have to pick only one.
Now that you've gotten the panic attack out of the way, you can start researching where you will get the best college experience, education, and return on investment (ROI). There is no "perfect" school for everyone, but there can be one that's perfect for you.
Here are four research tips for finding your best college fit:
Decide on your goal
This is the most basic but, in some ways, the hardest thing to do. What DO you want to do? Best rule of thumb is do what you love. If you do what you enjoy, you're much more likely to find success both professionally and academically. Don't limit yourself to careers that require a four-year degree. Look into working as a mechanic, a plumber, or other tradesperson. Those are skilled jobs that pay well and only need an associate degree or certificate. A bachelor's degree outside of popular business programs can be an asset as well. A bachelor's in health sciences can have a great return on investment, even if you don't become a doctor. The health sciences field can include jobs like audiologist, lab technologist, or physical therapist, good jobs that don't require another four to seven years of school. The median wage in the field is $60,200 and can be higher depending on the school. At California State University-Bakersfield, you could earn up to $83,000 after graduation.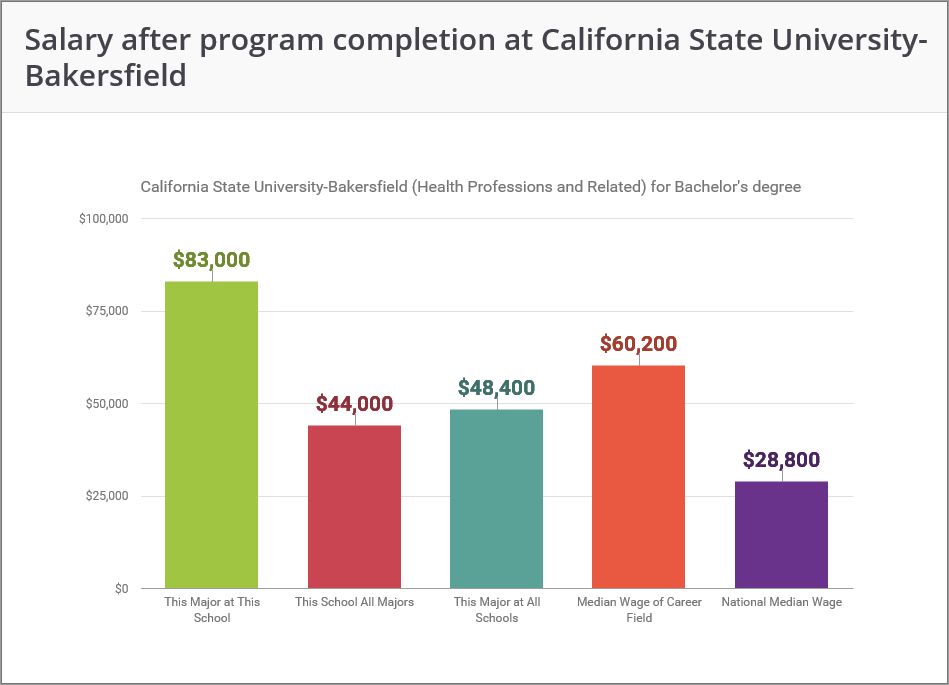 Don't let preconceptions about schools stop you from looking into them. The University of Chicago is known for its medical school, but, as shown here, you can also do well with a health science degree from CSU-Bakersfield. Really dive in to the details and information about any school that interests you. You'll be pleasantly surprised.
Know what you can afford
Before you've started looking at schools, you should already have set up a budget. Know what money you can put toward your education now and start applying for scholarships that can be used anywhere. The more you pay upfront, combined with scholarships and grants, is money you don't have to pay back.
One way you could save money is by taking general required courses at a community college. The tuition is often more affordable, so you might be able to pay out of pocket. It's a good way to start your education and the credits transfer. Save the student loans for when you go for the bachelor's degree.
Make a list of things that are important to you. Research those.
With the internet at your fingertips, there's nothing stopping you from spending days researching the quality, price and lifestyle of hundreds of schools and programs. Since there are so many factors you can research, we recommend making a shortlist of things that are important to you. Perhaps you want to go to school in an urban area. Put that on the list. Maybe you want to get hands on education from your teachers – if so, make sure the faculty to student ratio is something you put on your list.
There are a ton of great websites that can provide you the information you're looking for. Our ionMatch tool is another great resource you can use to research. ionMatch allows you to search for schools that have programs in the field you want with certificate, associate's, and bachelor's degrees. You can look at price, location, graduation rate, income forecast and more to determine a best fit. Here we compare CSU-Bakersfield to other schools in California with similar programs, both public and private. Even within the same state and in similar fields, there can be a range of costs and ROI. Don't forget to check on whether the cost is based on in-state or out-of-state tuition.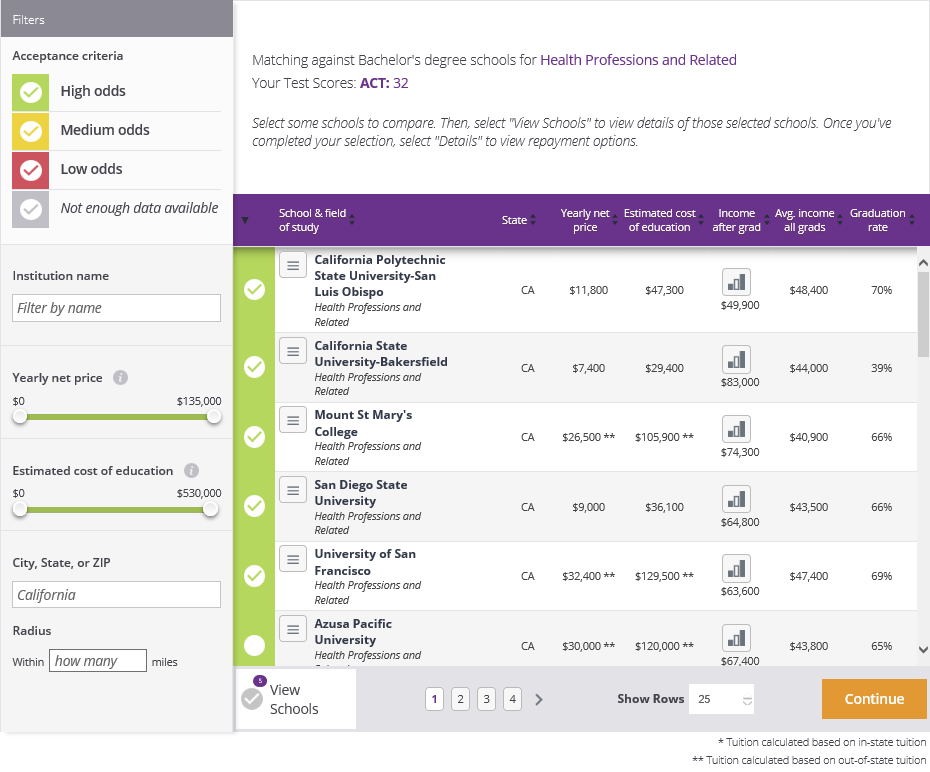 Look at the return
Higher education is a huge investment. You'd research before you spend $35,000 on a car, wouldn't you? It's the same with a degree. Education costs money; make sure it's worth it. Use ionMatch to determine each school's ROI by comparing the total cost to your expected salary after graduation. Let that guide your decisions on where to go and how much to spend. You can also look at other important financial considerations, such as how much you will need to borrow and how much your student loan payment will be after graduating. If you know how much you can afford to pay now and how much in scholarships and grants you'll receive, be sure to include it here. In this example, CSU-Bakersfield will only require $13,400 in loans, assuming you can pay $1,000 each year and get $3,000 in scholarships. That much money could buy you a good quality car. It could also get you an annual salary $83,000 and a good career. That is an investment that will last much longer than the car.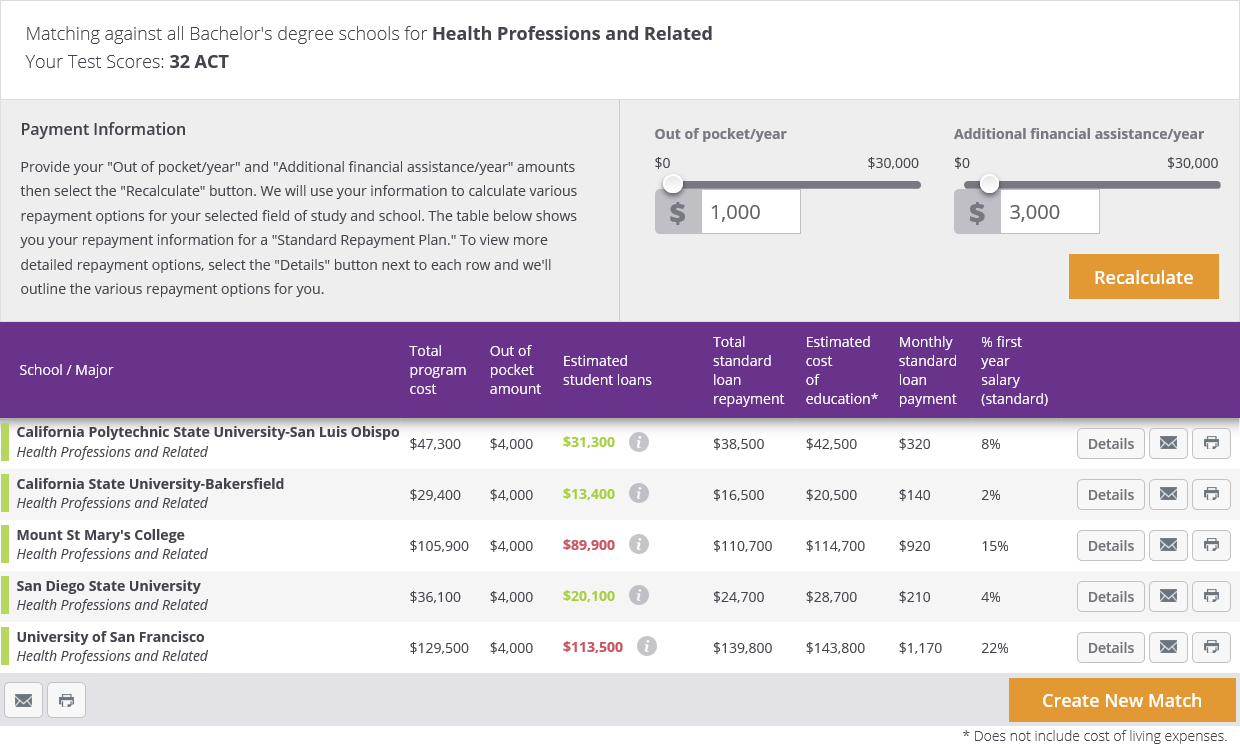 No matter what, researching the right school for you will take time and effort. Devote the time to it. The decisions you make will a big part of where you go from here. When you can, avoid snap decisions and look as far ahead as possible. This is your life we're talking about. It deserves the best decision you can make.