We recently conducted two surveys in an effort to better understand how people experience student loan borrowing and repayment. The first survey, which received the name "Borrowers in the Dark" asked students and graduates with student debt questions about their student loan knowledge. If it wasn't obvious from the title, that survey showed that the majority of student loan borrowers feel ill-equipped to manage their repayment. The second, our 2016 Financial Literacy Trends on Campus Survey, asked financial aid professionals about the state of their financial literacy programs. The results showed that despite increasing awareness of the benefits of teaching students about personal finance, there's still work to be done on college financial literacy programs.
As we analyzed the results of these surveys, we noted some discrepancies between what students and financial aid professional reported.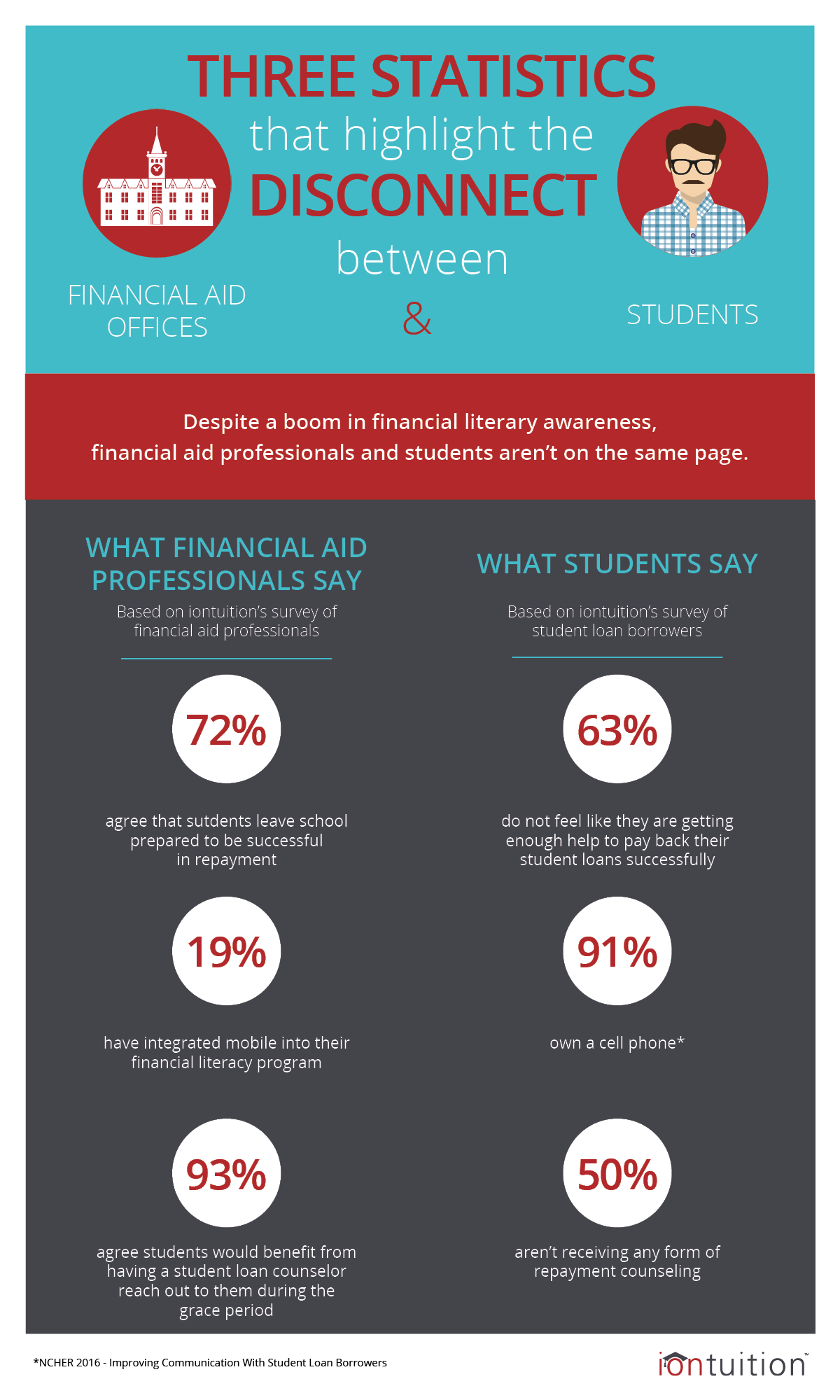 Three statistics highlight a disconnect between students and financial aid offices
Financial aid professionals overestimate students' ability to pay back their loans
An overwhelming 89 percent of financial aid respondents agreed that financial literacy plays a critical role in student success after they graduate. Nearly 72 percent believe that students leave school well prepared to be successful in repayment. Unfortunately, 63 percent of the student loan borrowers surveyed disagree, claiming that they are not getting enough help to pay back their student loans successfully.
Out-of-date communication channels could be a major roadblock for increasing student engagement
More than 91 percent of borrowers aged 18-24 own a cell phone. More than half of 18-24 year-olds approved of being contacted about important financial information, such as when a payment is due. Only 19 percent of financial aid departments report having integrated mobile communications into their financial literacy program.
Student loan repayment counseling: Financial aid pros agree it's beneficial, but students still feel alone
About 93 percent of financial aid professionals agree that students would benefit from having a student loan counselor reach out to them during the grace period, yet nearly half of the student borrowers surveyed have not received any form of repayment counseling. A whopping 48 percent of borrowers don't even know who their servicer is, and 31 percent don't know how to get in contact with their servicer to successfully pay back their loans.
We hope that by identifying these discrepancies we can help financial aid professionals develop a clear roadmap for improving their financial literacy program.