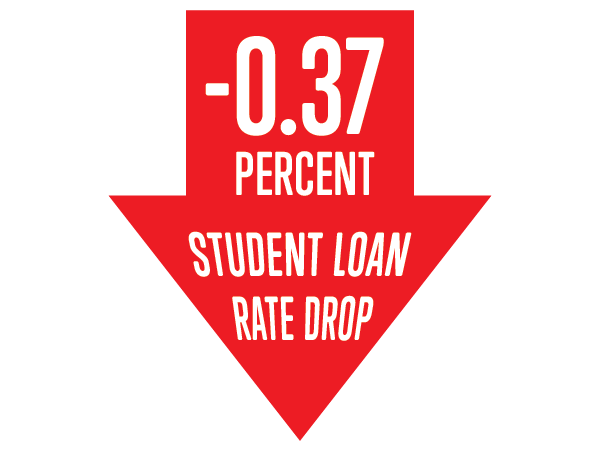 The U.S. Department of Education's Federal Student Aid office has announced that student loan interest rates for 2015-16 will decrease 0.37 percentage points from the 2014-15 rates.
The rates will apply to federal student loans disbursed on or after July 1, 2015 and before July 1, 2016. Direct Subsidized Loans for undergraduates will be 4.29%, Direct Unsubsidized Loans for undergraduates will be 4.29%, Direct Unsubsidized Loans for graduate or professional students will be 5.84%, Direct PLUS Loans will be 6.84%.
Congress passed the Bipartisan Student Loan Certainty Act of 2014 to tie federal student loan interest rates to the financial markets. FSA stated on their website that interest rates are determined each spring for new loans for the upcoming year. Each loan has a fixed interest rate for the life of the loan.
Do you need help managing your student loans, finding a repayment plan that works best for your circumstances, have questions about financing your college education, or what college is a good match for you?  The services of iontuition can help you find answers to all your student loan questions.
For information about the benefits of iontuition student loan management tools, we invite you to watch this short overview. Like what you see? Sign up for your account here!
---

Tom Wray is all about the research, getting it right, and making it relevant. He's got solid journalistic experience in all forms of content delivery – and he's got his keyboard humming with what's up and important for students, college admins, parents, employers and news junkies.