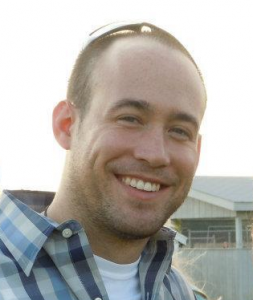 Meet Macklin Larsen, Manager of Operations for i3 Group. We caught up with Macklin to learn more about him, and get a behind-the-scenes-look at i3 Group operations.
Macklin attended Ashford University on a soccer scholarship and was hired after graduation as a financial services adviser to help active duty students and military spouses. Following Ashford, he worked as a GPS programmer on helicopters and airplanes for an aerial applications firm, and in 2010, he started at Ceannate Corp. as a student loan counselor for i3 Group. His background in student and financial services served him and his new employer well, and he quickly moved from being a team leader (managing a dozen student loan counselors) to the role of a unit manager where he supervised 3-4 team leaders and 30-40 counselors.
By the end of 2012, Macklin had become Manager of Operations, where today he supervises three service managers, nine unit managers, and 90 student loan counselors. Each year, the division has expanded to help more students navigate their financial obligations and pay down their student loans. Key to their success are the dedicated counselors who offer live support from Monday through Saturday.
We asked Macklin what differentiated i3 group as an industry leader in student financial services.
"I'd have to say that several factors contribute to our success. Foremost I'd say it's our student-centric approach. Many of our counselors are, or were, student borrowers and they personally understand the challenges of managing debt, and also tracking multiple loans through different servicers. Our counselors can empathize with the burden of student loan debt, and they are trained to assess every financial situation to determine what has caused irregular payments or delinquency, and to bring accounts into current status. Actually, bringing accounts current is just one of three 'wins' we offer.
"The second 'win', and where i3 counselors stand out from our competitors, is assessing what repayment option is best suited for each borrower. Our services are greatly focused on 'sustainable' repayment. The question is what can the borrower reasonably afford today or down the road? There is no 'one-solution-fits-all', and our counselors take pride in finding the optimal repayment plan for every borrower over the life of the loan.
"The third 'win' goes beyond resolving the immediate payment issues. It's really about our commitment to long-term financial health and maximizing the benefits of a college education. With student loan debt constantly in the news, we see the growing need for teaching the principles of loan management with important skills such as budgeting and improving our credit score. Today we refer to these as 'financial literacy' skills, and our i3 counselors offer every student and borrower a path to financial literacy, and more financial freedom, with our online platform called iontuition. We say it's 'every tool you'll ever need' because it's very user-friendly and a financial self-help kit online. And, iontuition comes with live counselor support too.
"When you ask me about my work, I have to say that there is a lot of pride built into our company, from our policies and training to employee recognition and promotion. We train and work in teams, and we've created a competitive work environment based on maintaining our competitive edge. As we've grown, our challenges have increased too. Each year our clients multiply, and so does our training and delivery.The truth is that we come to work looking for ways to find efficiencies, scale processes, and improve our services. We're the industry leader because we've taken all this seriously, but also because we really value the work we do, and take a lot of pride in helping people every day."
Wow Macklin. Thanks!
Learn more about iontuition.com or register here.