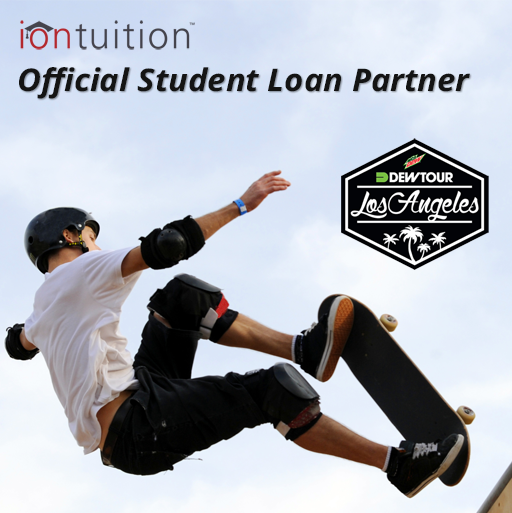 iontuition teams up with Dew Tour to give the skateboard community powerful tools to make responsible college decisions
ROLLING MEADOWS, IL – August 13, 2015 – Iontuition, Inc., a member of the Ceannate companies that help students and families take control of their education and finances, announced today it is partnering with Dew Tour LA to help attendees make smart college financial decisions.
"The concept of planning for college using financial success and ROI factors must be introduced early and in various forums. Not just in high school," said Balaji "Raj" Rajan, CEO of Ceannate Corp. "We feel that introduction at venues that millennials frequent will highlight that college is cool, but must be a responsible decision."
For the first time in its 11-year history, Dew Tour is bringing three days of intense skateboarding competition, movie premieres, art exhibits, live music and more to downtown Los Angeles, Calif. Some of the top skaters in the world, including Pierre-Luc Gagnon, Ryan Sheckler, Louie Lopez and Trevor Colden, will go head to head. All street, vert and streetstyle competitions will take place around the Ace Hotel, and are free and open to the public.
iontuition.com is hosting three giveaways in honor of Dew Tour LA:
●  Create a iontuition account before Oct. 15 for a chance to win a $750 Amazon gift card
●  Like/share iontuition Facebook posts on Aug. 14-16 for a chance to win an Apple Watch™
●  Follow/retweet iontuition tweets on Aug. 14-16 for a chance to win a GoPro®

About iontuition™
A member of the Ceannate companies, Iontuition, Inc. helps students and families take control of their education and finances. Student borrowers use the iontuition.com portal for college selection, to manage their education loans, and improve their financial literacy. Core features include a dashboard showing all student loans—federal and private, access to expert student loan counselors, intuitive repayment calculators, and loan monitoring alerts. Learn more at www.iontuition.com or download the mobile app, available for both Apple and Android devices.
About Dew Tour
The Dew Tour consists of three marquee events, featuring disciplines across BMX, skateboard, freeski and snowboard (superpipe and slopestyle), with additional competitions integrated throughout the year. Dew Tour events are premium action sports and lifestyle festivals combining the best in competitions along with the Dew Tour Experience, live music performances and lifestyle showcases. The Dew Tour is broadcast on NBC, and streamed live on DewTour.com and NBC Sports Live Extra. The Dew Tour is also distributed domestically on Universal HD and Comcast SportsNet, and internationally on TVA, Fox Sports Australia, Extreme Sports Channel, ProSieben, DR and Sky TV. More information can be found at www.DewTour.com.
###
All trademarks and product names are the property of their respective companies.
Media Contact:
Kelly Cox
FortyThree, Inc.
831.401.3175
ceannate@43pr.com