Recent data released by the Integrated Postsecondary Education Data System shows community college enrollment declined by nearly one million students in fall 2021 compared to fall 2019. An analysis by the Community College Research Center shows the largest decline in the 18 to 24 years old segment. Older adults as well as several minority populations also saw a decline.
Community College Enrollment is Expected to Recover
The pandemic is the most likely explanation for the dip in enrollment for the 2021-2022 school year. Many students did not want to risk their health by attending in person or risk their education by attending remotely in 2021. With 2023 looking more like the pre-pandemic years, enrollment numbers are expected to rise.
According to the National Student Clearinghouse Research Center, the only growth in the fall 2022 enrollment is an 11.5% growth in high school dual enrollments: high school students attending some college-level courses. The 18 – 20 age group increased slightly as well, and all other segments remained flat.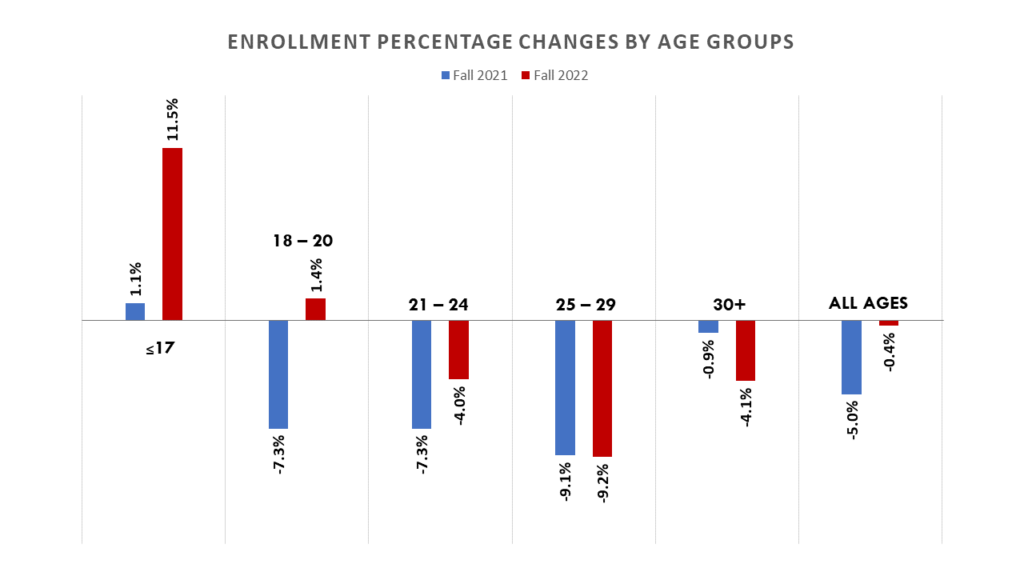 Community Colleges Should Rethink Their Enrollment Strategies
Enrollment of adult students over the age of 24 also declined year over year. Community colleges still have a lot to offer. Recent high school graduates see the value in attending an affordable institution. Adult learners understand the value of reskilling or upskilling for their careers.
Students expressing interest in attending community colleges should enjoy a smooth path to enrollment. IonTuition helps community college admissions departments with the software and/or call center support they need to track, nurture, and enroll prospective students. Contact IonTuition today for more information on how our Lead & Inquiry Management can help your school grow enrollment and remain compliant under all TCPA-related laws.
.