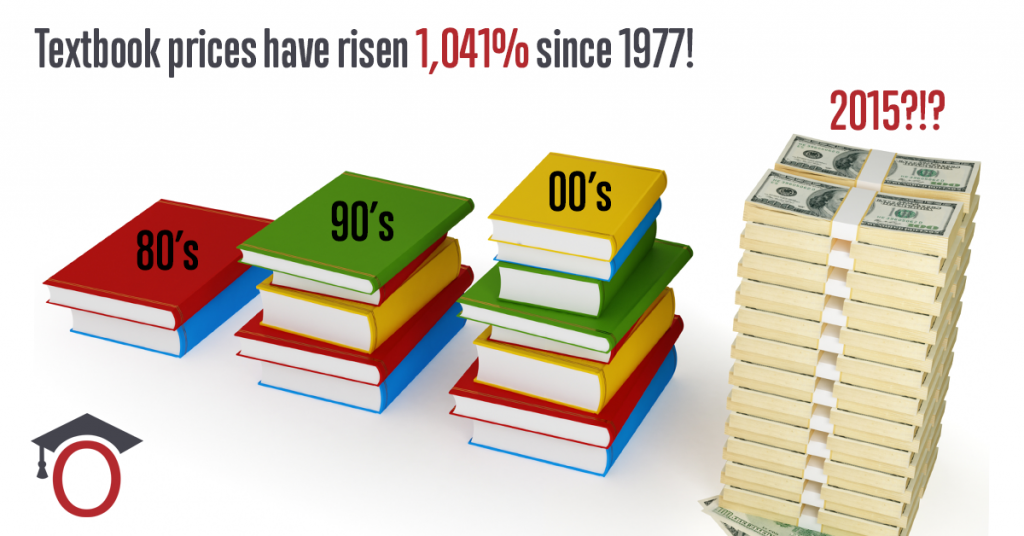 A report from NBC News found that college textbook prices have risen by 1,041% since 1977, more than three times the rate of inflation. But it doesn't necessarily mean students are paying more.
The news organization reviewed Bureau of Labor Statistics to discover how quickly book prices have risen in the past 38 years. David Anderson, executive director of higher education at the Association of American Publishers, told MarketWatch that the BLS figures only measured new hardcover books.
"There are a variety of alternatives publishers… that are all less expensive and not included in the [BLS Consumer Price Index]," Anderson told the website. "It tends to distort what's really going on out there."
Prices for many books have risen, but a survey from the National Association of College Stores in July 2015 found that student spending has actually been declining. The average cost of course materials has gone from $701 in 2007-2008 to $563 in 2014-2015.

"Many cost estimates are based on purchases of new materials, but the reality is that because of the many options students have today – rentals, digital, used and print-on-demand – what students are actually spending is much less than what is generally reported," said Elizabeth Riddle, director of NACS's OnCampus Research. "Campus stores, the leading resource for acquiring course materials, also have implemented more effective buying practices, increased used books and rental programs, and offered materials in multiple formats to help ease students' burden."
Faculty sensitivity to prices, new policies at college bookstores, new media formats, and increasingly savvy shopping have all helped bring down the cost for students.
There has been an increase in students looking for less expensive used textbooks in bookstores, online ads, or through social media. College textbook rental services have also grown in recent years. Companies are also starting to publish materials digitally, requiring only an access fee, and offer faster easier and faster updates.
Need help with your textbooks? Then make sure to register with iontuition and be entered for a chance to win $750 towards your textbooks!
Click here for iontuition contest rules rules.
---

Tom Wray is all about the research, getting it right, and making it relevant. He's got solid journalistic experience in all forms of content delivery – and he's got his keyboard humming with what's up and important for students, college admins, parents, employers and news junkies. Check out his weekly columns: Student Loans 101, News Flash!, Eye On School Success, Eye On Student Success and more.