When it comes to student loan repayment, the sooner you can pay down your debt the better. This is particularly true for student loans with high interest rates. Here at IonTuition, we are passionate about offering the best practices for repayment. It is what inspired us to create our platform that allows companies to provide student loan repayment programs to their employees as a benefit.
Utilize Any Available Tax Breaks
If you haven't filed your taxes yet, make sure to take advantage of any tax credits available related to student loans. By taking advantage of any applicable tax breaks, you can pay down your student debt faster and prepare for the year ahead. Check out our tips here.
Schedule Automatic Payments (Or Make Payments Early)
One reason that people often get stuck in a vicious cycle of worsening debt is due to fees and penalties for missed payments. You can increase your odds of success through a few different tactics. One simple way is by setting up automatic payments. Most servicers offer a small interest rate discount (usually 0.25%) for those who enroll in auto payments. Make sure to schedule your deduction each month in line with your budget and pay schedule.
If you can't set up automatic payments, create reminders for yourself to make payments ahead of time. Paying every 3 weeks instead of every month will eventually put you ahead in payments. If you do forget a payment, you will still have time to make the payment without a penalty.
Increase Payments As Your Income Increases
Are you likely to receive a promotion or raise this year? If so, think about how you can increase payments as your income increases. If you don't proactively put more money toward your student loans as you make more money, you will spend more in other areas without increasing the amount you are paying on your loans. It is easy to quickly change your lifestyle if you don't pay attention.
The first paycheck that you get an increase on, sit down and rework your budget. You might be able to spend a little more on luxuries, but don't forget to also increase your efforts to pay down debt.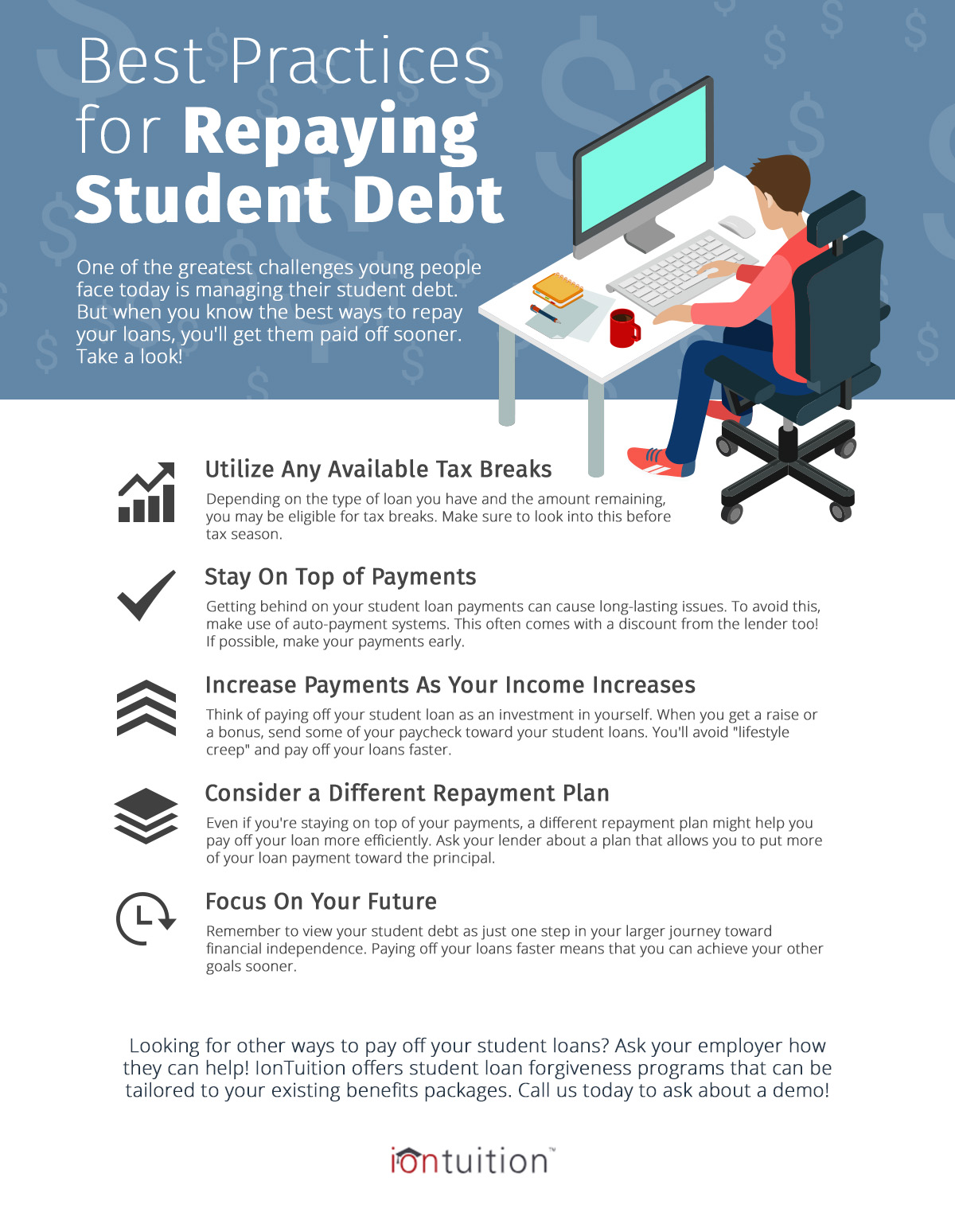 Consider a Different Repayment Plan
Even if you're not struggling to make payments, that doesn't mean you shouldn't consider a repayment plan that can lower your interest rate or monthly payments. Both refinancing and income-driven repayment plans lower your monthly payment by extending your repayment term to 15 years or more. You can continue to make the same payments you've always made but more of your payment will go towards your principal and you'll be able to pay back your loan faster. Servicers are no longer allowed to charge pre-payment penalties.
Focus On Your Future
Finally, focus on your future while you work toward paying off student debt. Not only is it stressful to carry the burden of debt around with you, but it can be a hindrance toward other goals, such as buying a house or planning for retirement. While it might require some sacrifices up front, focusing on how you can plan for your future by paying your student loans back at a faster rate will go a long way in setting you up for success down the road.
Talk To Our Team About Student Loan Repayment
Our platform allows businesses to offer student loan repayment programs as a benefit to their employees. We provide expert counseling for those who want to plan a better method for paying back student loans. With our program, you can access a network of vetted refinancing offers to explore viable options for your student debt.
When it comes to student loan repayment, make 2019 the year you put forward a renewed focus on ridding yourself of this cumbersome debt. Reach out today to learn more from our team about the unique perks we can offer to employees through our student loan repayment program.