As a component of FSA's Next Generation (Next Gen) Financial Services Environment, the Department of Education recently released an app for students to submit their Free Application for Federal Student Aid, or FAFSA.
A beta version of the app, called My Student Aid, went live earlier this week. It is expected to be fully functional by October 1, just in time for high school students to begin their financial aid application for the 2019-2020 school year.
My Student Aid was created to make the FAFSA application process simpler for families and to increase the completion rate. Approximately 60% of high school seniors completed the FAFSA last school year, while 70 percent of high school graduates enrolled in college.
The My Student Aid app includes convenient features for both parents and students. The process allows users to automatically link information from their tax return, pre-filling many of the application's questions. Applicants can now complete the entire process through My Student Aid and even sign using a swipe signature feature. After completing the application, students can track their financial aid packages for the schools of their choice.
The Department of Education is hoping this app will be useful throughout college. Students will be able to check their account balances, accept their loans, and even compare prices. As always, students are encouraged to apply early to better plan for their college expenses. College seekers can begin applying during their first semester of their high school senior year.
One missing aspect of My Student Aid is a financial wellness component. As of this current release, the app doesn't clarify how much the student will owe, or specific details about their loans, including expected repayment dates and terms. For that reason, apps such as IonTuition remain very important to guide borrowers through the complicated repayment process and help students and graduates manage all of their student loans.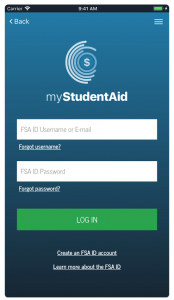 Visit StudentAid.gov for more information about the FAFSA process