Financial literacy is the ability to make wise money management decisions. Financially literate adults are more likely to have good credit, less debt, and retire on time. Most Americans are aware they need to be saving and investing, but don't have a strong enough understanding of the fundamentals of how to accomplish their personal goals with fiscal burdens such as student loans holding them back.
Americans aren't performing well on financial literacy tests
A recent study by US Bank found that many college students lack basic financial literacy skills. For example, 55% of students were unaware that credit scores are impacted by how much money is in their bank account.
The average score on the National Financial Educators Council's "National Financial Literacy Test" is 63%, with only 48% out of 17,000 participants receiving a passing score at the time of this writing. Scores improved as the age of participants increased, with the 50+ age group scoring the best and the 10–14 age group scoring the worst. The 15–18 age group had the highest number of participants and scored an average of 60% overall.
Another financial literacy quiz created by the Financial Industry Regulatory Authority (FINRA) had very similar results with the majority of adults across all 50 states failing the quiz.
These tests assess Americans' knowledge of earning, saving, and growing their money by asking questions about how to build credit or how to calculate interest. This lack of financial literacy contributes to America's struggle to overcome debt and save for retirement, contributing to the need for financial wellness benefits or education.
Schools could be doing more to teach personal finance
Few states require K-12 curriculum devoted entirely to financial literacy (such as economics courses in high school). However, many educators recognize the need for personal finance education and have found ways to incorporate financial literacy into their language arts and math lessons. As more schools implement personal finance into their curriculum, hopefully financial literacy scores will improve.
The map below shows the scores for each state's financial literacy based on a variety of conditions including people's credit scores, rainy-day funds, and access to public financial education.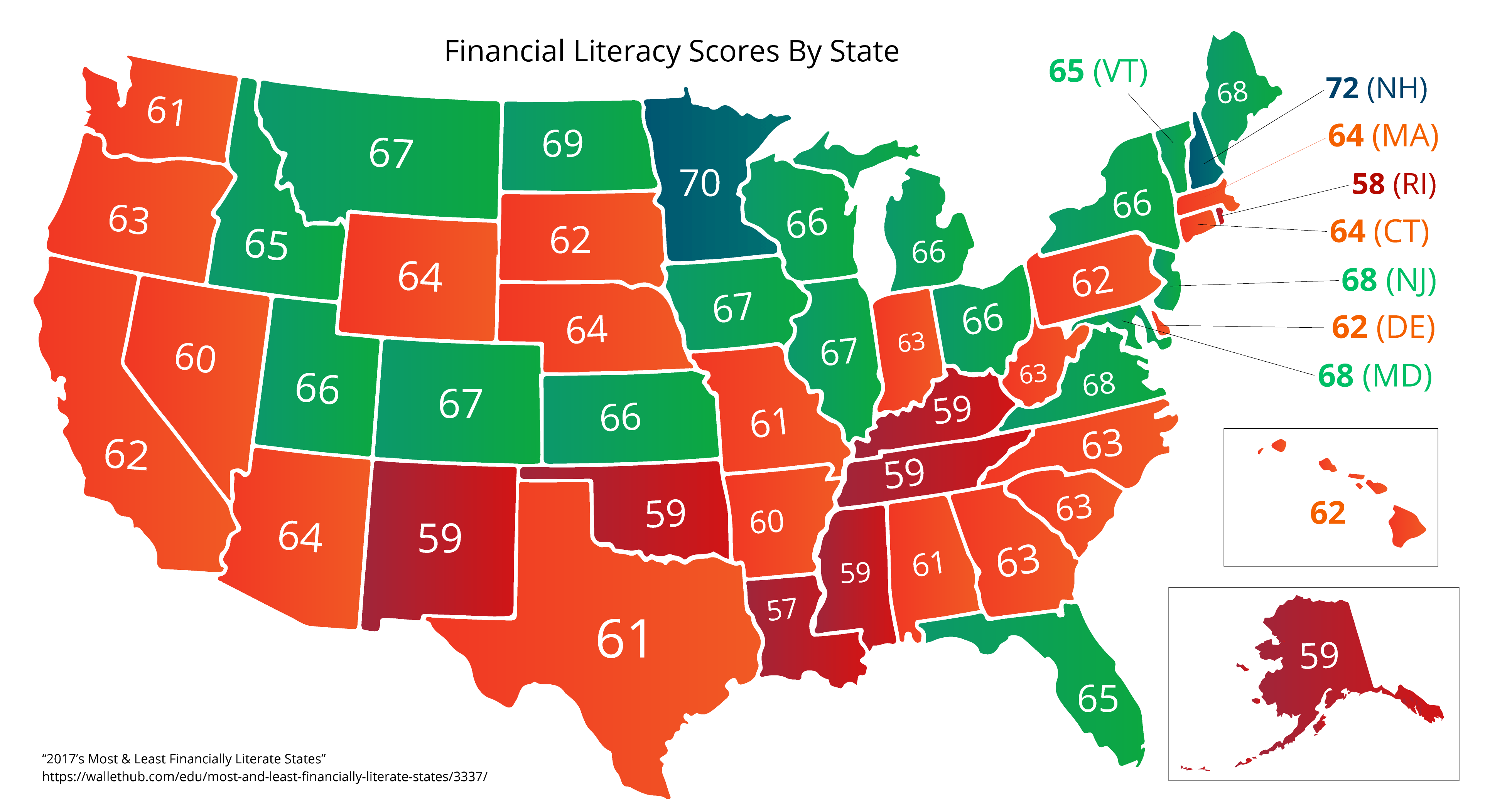 The absence of formal financial literacy training through traditional paths of education is feeding the growing demand for financial wellness benefits. Employees desire help managing their income and paying down their debt since they didn't develop those skills naturally. These employees are worried that they're not going to have enough money to retire due to growing debts from burdens such as student loans or credit cards.
Forbes reported earlier this year that financial wellness programs are growing in popularity. Since people depend on their jobs to improve their financial situation, it's prudent that employers take responsibility to include financial wellness into their benefits programs.